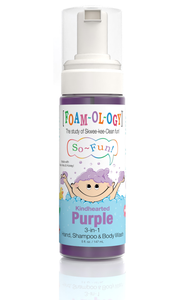 This fluffy cloud of foam softens and moisturizes as it lifts away the impurities. Our 3-in-1 Shampoo, Hand and Body Wash make bath time [Skwee-kee-Clean] oodles of fun!
Kindhearted • [kahynd·hahr·tid]
having or showing sympathy, gentility, and kind nature. 
Love is being kind. Kindness has no ends. Do unto others as you would have others do unto you.
Size: 5.0 fl. oz.